Andrei Arshavin was an important player for Russia ahead of the Euro 2008 tournament and it was not surprising that Dutchman GuusHiddink selected him despite the knowledge that he's suspended for the first two group games. Hiddink was the Russian senior national team manager to the Euro 2008 tournament in Austria and Switzerland.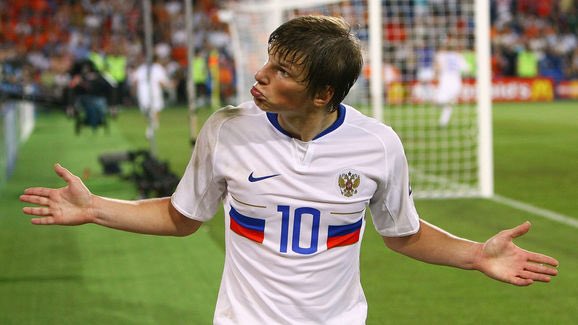 Russia were drawn in Group D alongside eventual champions Spain, Greece and Sweden. Without Andrei Arshavin, the Russians lost their first game to Spain with David Villa netting three goals on the way to a 4-1 win for his team. Cesc Fabregas scored the other goal for Spain, while Roman Pavyluchenko scored the lone goal for Russia.
The Russians bounced back from the heavy loss to Spain by beating Greece in their second group game without Arshavin thanks to the first half strike from KostantinosZyryanov. Andrei Arshavin made his return in the final group game against Sweden and he led Russia to the quarterfinals with a goal and an assist in the 2-0 win over Sweden. Arshavin scored the second goal on 50 minutes after he had provided the first goal for Pavyluchenko in the 24th minute.
Russia qualified as the second team behind Spain and ahead of Sweden and bottom team Greece in their group. Their reward was a difficult quarterfinal clash with the Netherlands for a place in the last four of the tournament.
After a goalless first half, Pavyluchenko scored his third goal of the tournament to give Russia the lead before Ruud Van Nistelrooy levelled matters for the Dutch team four minutes from time thereby forcing extra time. The influence of Andrei Arshavin grew in extra time and he provided the assist for DmitriTorbinski to score the second Russian goal on 112 minutes before he sealed a 3-1 win with his goal four minutes later.
Arshavin couldn't do much in the semi-finals as Russia were knocked out by Spain via a 3-0 win.